'Foggy' Carl Fogarty
by Billy
40x30cm
(16x12"approx)

Limited Edition of 200 signed by Carl Fogarty MBE and Billy.


SOLD OUT

"It's been a long while since there have been any new prints available and I am really happy with this.
In my opinion Billy is the best in the business
and he has captured my style and determination in brilliant detail."
Carl Fogarty
Foggy also won the 2014 ITVs "I'm a Celebrity Get Me Out of Here!" reality TV programme hosted by Ant and Dec.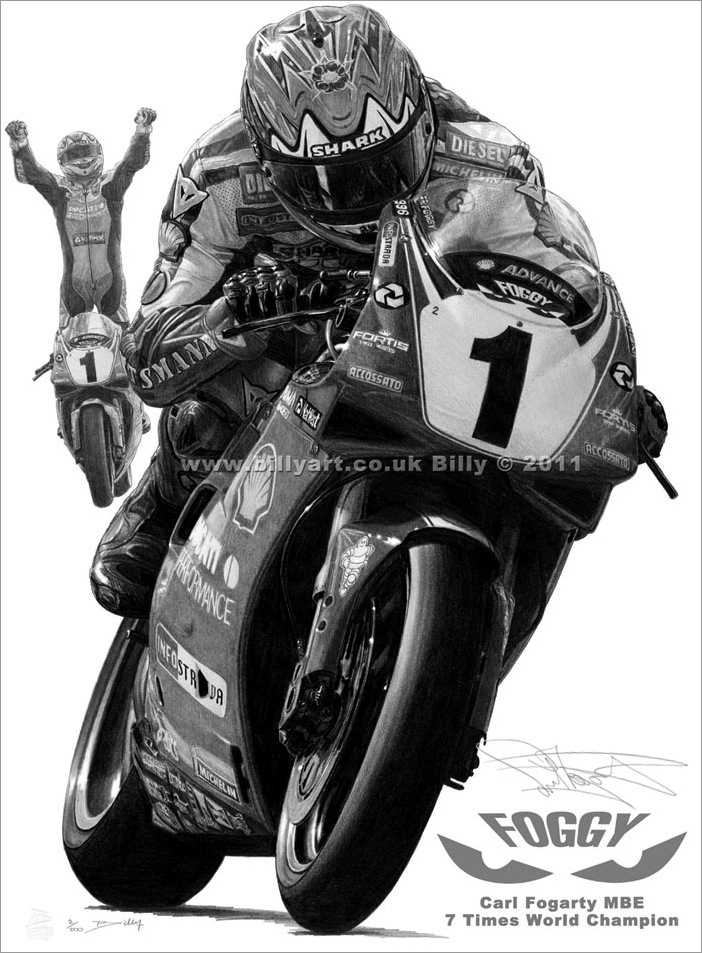 The billyart watermark does not appear on the Foggy print by Billy the artist


Signed by Carl Fogarty MBE, 7 times World Champion and Billy.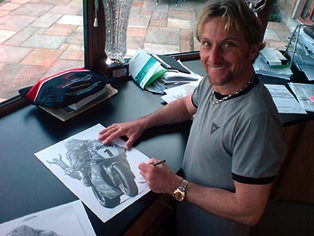 1988 World TT Formula 1 Champion
1989 World TT Formula 1 champion
1990 FIM F1 World Cup Champion
1994 WORLD SUPERBIKE CHAMPION
1995 WORLD SUPERBIKE CHAMPION
1998 WORLD SUPERBIKE CHAMPION
1999 WORLD SUPERBIKE CHAMPION

This is a brand new limited edition print of Carl Fogarty for 2011 that was a mutual collaboration between Foggy and Billy. To the right you can see Carl signing the 'Foggy' prints. The original drawing of Carl Fogarty was a joy for Billy to work on and was produced over a couple of months. There are photos of the art work of Carl Fogarty in progress on Billy the artist's
facebook page
.


Details of the drawing of Foggy by Billy are below under the 'Decade of Domination' Ducati/Carl Fogarty World Superbike print. Go to the
'Decade of Domination'
page for detail views of Billy's stunning oil painting that depicts Carl Fogarty's 4 World Superbike Victories along with the others from the 1990's
---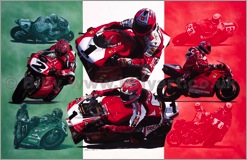 'Decade of Domination'
by David Bill
(Billy)
Ducati Motorcycles World Superbike fine art print which also shows Carl Fogarty's 4 World Superbike Championship Victories, £15, 51x71cm with FREE UK POST
---
Detail views of Billy's drawing of Foggy below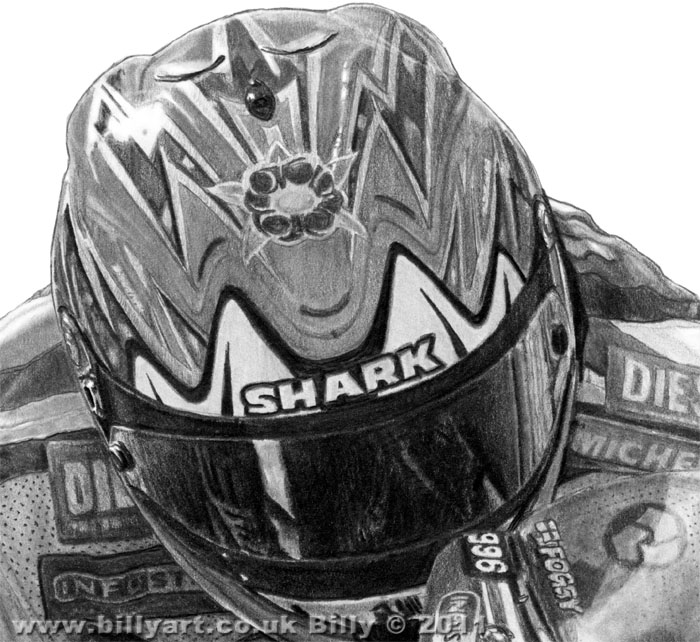 Carl Fogarty's famous shark helmet with the Lancashire Rose focused behind the bubble of the Ducati 996 on his way to another World Superbike Podium.

Lovely contrast of the organic leather of Carl Fogarty's glove against the the technical engineering of the handlebar and brake assembly, behind the fairing that has Foggy's "eyes" and the victors number 1 plate.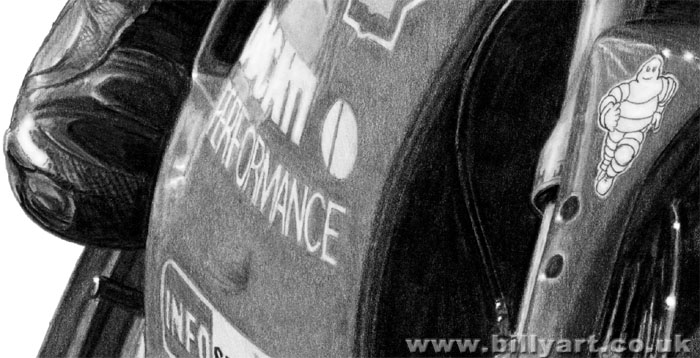 The side panel of Carl Fogarty's Ducati World Superbike. This oversize detail shows the contrast between the leather of Carl Fogarty's boot, the plastic of the Ducati fairing with the logos and the metal of the brake disc and hose.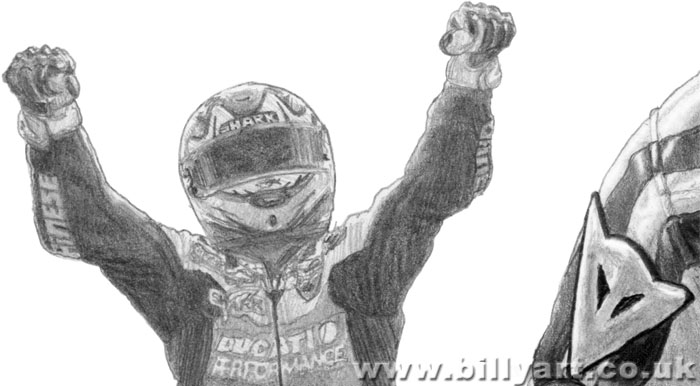 Carl Fogarty victory pose. The background detail oversize.
'Foggy' by Billy is a unique Carl Fogarty fan collectors print that would make a great motorcycle gift.

Remember to share the 'Carl Fogarty' limited edition print with your motorcycling friends
---