Knight Racer - Sir Lewis Hamilton
2020 Formula 1 7x World Champion
fine art print by Billy
Available in A4 £25(297x210mm), A3 £35(420x297mm) and A2 £45(594x420mm)
Limited edition of only 450 copies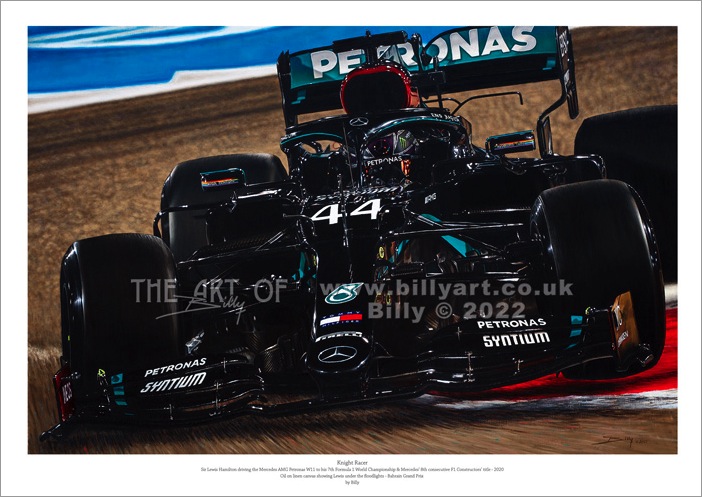 'Knight Racer' Sir Lewis Hamilton the 2020 Formula 1 World Champion limited edition fine art print by Billy of only 450 copies and 44 Artist Proofs.

This is a brand new limited edition fine art print of Lewis driving the Mercedes AMG Petronas W11 race car under the lights at the 2020 Bahrain Grand Prix. Lewis became the 7 times F1 World Champion, equalling Michael Schumacher's record, and Mercedes the record breaking 8 times consecutive constructors' champions.

This limited edition print of Lewis Hamilton is a giclée print on archival matte art paper using Ultrachrome K3 inks and each print is signed by Billy. The fine art prints of F1 racer Lewis are taken from Billy the artist's oil on linen canvas painting.

Prices are A4 £25, A3 £35 and A2 £45 which includes post and packing for UK orders (*plus £11-15 for international orders)

The print is available in A4, A3 and A2 and is embossed and signed by Billy.
Numbers 1-8, 17, 18, 44, 61, 82, 100, 103, 144, 188, 441, 447, 448 are PREMIUM EDITION NUMBERS.


1, 7, 8, 44, 100 & 103 on paper are £200 (1 has gone)
2-6, 17, 18, 61, 82, 144, 188, 441, 447 and 448 are £100.


Contact Billy
if you would like any of these numbers.

Watch the Full HD Time-Lapse Video. Details below the youtube video.
Close up details of the Lewis Hamilton 'Knight Racer'' oil painting below