'Joey's 25th'
Joey Dunlop - 2000 250 Lightweight TT
By Billy. Available in A4 £30(297x210mm), A3 £40(420x297mm) and A2 £50(594x420mm)*
Limited Edition of 350 Giclée Fine Art Prints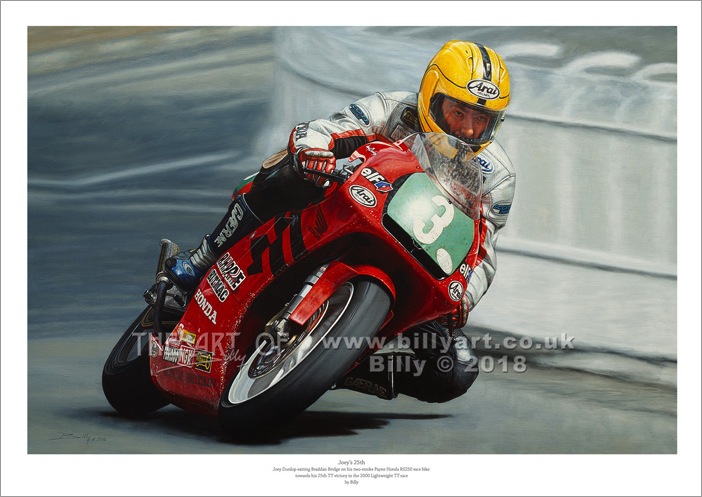 This limited edition print of Joey Dunlop on the 250 is a giclée print on matte art paper using archival inks
'Joey's 25th' is a Limited Edition Fine Art Print of Road Racing Legend Joey Dunlop - The King of the Mountain - Riding the Payne Honda RS250 exiting Braddan Bridge on the way to his 25th Isle of Man TT race victory.

This brand new limited edition of 350 Giclée fine art prints of the legendary King of the Roads Joey Dunlop - riding in the world famous Isle of Man TT races - is officially endorsed by the late Joey Dunlop's family and they receive a royalty for each print sold.

This limited edition print of Joey shows him riding the Payne Honda RS250 two stroke race bike to his 25th Isle of Man TT victory in the 2000 Lightweight TT race, at the age of 48.



The print is available in A4, A3 and A2 and is embossed and signed by Billy and come with a certificate of authenticity.
Prices are £30, £40, and £50 respectively and includes post and packing for UK orders (*plus £11-15 for international orders)

Prints 1 to 208, 222, 226, 247, 250, 253, 258, 261, 263, 269, 300, 321, 325, 326, 333, 345, 346, 348 and 350 (along with many others) are not available.
Detail and Full HD time-lapse below.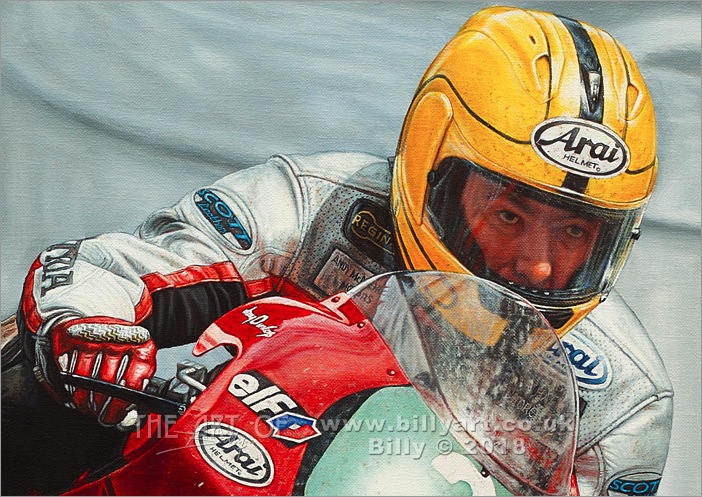 Detail of the Joey Dunlop 250 TT oil painting by Billy

Below is the full Joey Dunlop 250 TT oil painting timelapse
This is a giclée print on matte art paper using Ultrachrome K3 inks. These are affordable fine prints that make great gift ideas are taken from Billy the artist's oil on canvas painting and is emboss stamped and signed by Billy.

---
Also Available
'Yer Maun'
Joey Dunlop - 2000 Ultra-Lightweight TT
By Billy. Available in A4 £25(297x210mm), A3 £35(420x297mm) and A2 £45(594x420mm)*
Limited Edition of 850 Giclée Fine Art Prints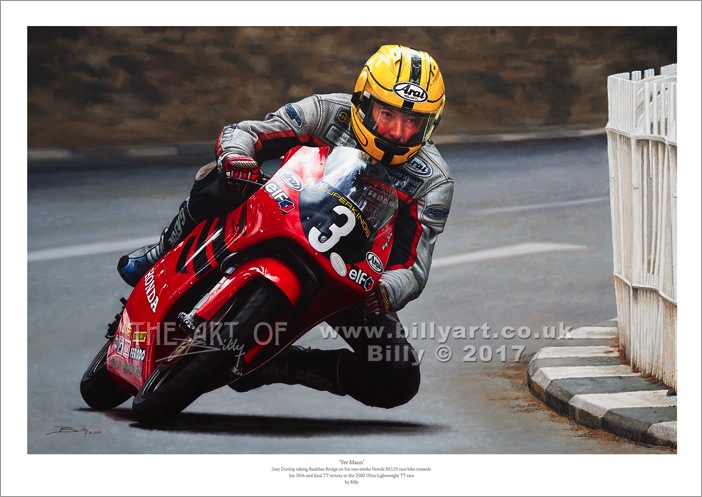 ---