Chris 'Stalker' Walker
2015 Be Wiser Kawasaki British Superbike
fine art print by Billy
Limited edition of only 40 prints.
Sold Out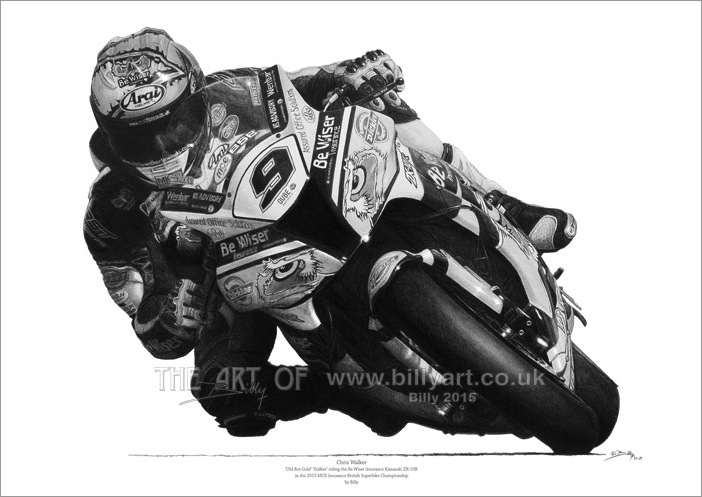 The billyart watermark does not appear on the Chris Walker Fine Art Print


Chris 'Stalker' Walker limited edition of 40 giclée fine art prints by Billy.

This is a brand new limited edition fine art print of 'Old But Gold' fans favourite Chris Walker riding the Be Wiser Insurance Kawasaki ZX-10R superbike in the 2015 MCE British Superbike Championship. Print numbers 1 and 9 have gone to Chris.

This limited edition print of the 'Stalker' is a giclée print on archival matte art paper using Ultrachrome K3 inks and each print is signed by Billy. The fine art prints of BSB racer Chris are taken from Billy the artist's pencil drawing.

The print is available in A4, A3 and A2 and is embossed and signed by Billy.

Sale prices are £12, £18, and £25 respectively and includes post and packing for UK orders (*plus £10-13 for international orders. Prints were previously £20, £30 and £40)


Below is timelapse of the Chris Walker drawing.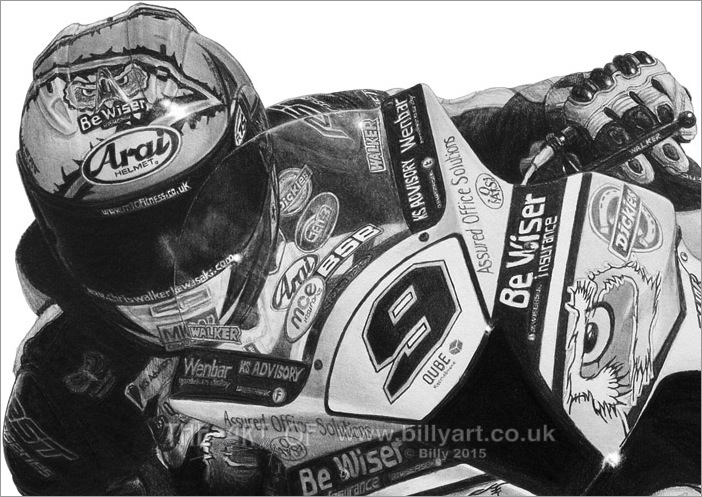 Detail from the 'Stalker' drawing. The billyart watermark does not appear on the Chris Walker Fine Art Print

*The fine art print of Chris Walker has free UK Post and Packing. International orders have an additional cost as I will use Royal Mail 'International Tracked and Signed' or 'International Signed For' to ship them. Simply use the drop down button by the BUY NOW to select the size print you require from either the UK or International prices.
If you wish to purchase more than one print internationally then please contact Billy and a single paypal invoice with the total price and one shipping fee can be sent to you.